Best IPTV boxes for 2022. One of the main areas of life that have changed because of the internet is the world of entertainment. Technological advances have provided a better way of watching TV and that is the IPTV. IPTV stands for Internet Protocol Television that is becoming popular among people. It allows you to choose programs on-demand, you can also record your favorite TV shows. You get a variety of high-quality channels so you don't have to worry about a limited selection.
You may also like: Best IPTV Service Providers of 2022
An IPTV allows you to watch content over the internet and is a great alternative to the traditional satellite and cables. To enjoy IPTV services, you have to subscribe to a package of your choice that a service provider can provide you. This allows you to stream your favorite content at 4K UHD quality with other high-quality specs. For having access to an IPTV service, you'll have to buy an IPTV box that allows you to watch and browse your favorite content.
Choosing the best IPTV box can be a tough choice for you as there are a variety of manufacturers in the market that claim to provide the best one. But, here in these reviews, you will find everything about the 3 best IPTV boxes for 2022. The list includes the recently launched best IPTV boxes by the top manufacturers. In this list, we have:
| IPTV Box | BuzzTV XRS4500 MAX | Formuler Z8 | MAG 424W3 |
| --- | --- | --- | --- |
| RAM | 4-GB | 2-GB | 1-GB |
| Storage | 128-GB | 16-GB | 8-GB |
| OS | Android 9 | Android 7 | Linux 4.4.35 |
| CPU | Quad-core | Quad-core | Quad-core |
| WiFi | ✔ | ✔ | ✔ |
| Bluetooth | ✔ | ✔ | ✔ |
| Antenna | X | ✔ | X |
| 4K | ✔ | ✔ | ✔ |
| GPU | ✔ | ✔ | X |
| | Price | Price | Price |
Let's get into the detailed review of these best IPTV boxes that you will have for 2022:
Buzz TV XRS4500 is the latest upgraded IPTV box by BuzzTV. This amazing little beast comes with all the specifications that one can demand in IPTV set-top box. This is one of the best IPTV boxes in the market. BuzzTV's slogan is "Everyone's TV Box", so you finally have BuzzTV XRS4500 MAX that is perfect for both hobbyists and newbies as it fulfills all you need in one screen. Before we get into the detailed features and technical aspects of this improved version, let's check out the things that you'll get in the package.
What's inside the box?
In the BuzzTV XRS4500 MAX package, you'll get the following things:
BuzzTV XRS 4500 Android IPTV OTT Set-Top Box
HDMI Cable
Universal Power Adapter
Power Connector Cable
2X AAA Premium Batteries (Energizer Brand)
BuzzTV BT-100 Remote Controller
Setup Guide
Design
The shiny black IPTV box has a pretty attractive curvature and style. BuzzTV XRS4500 has an appealing honeycomb pattern on the top that looks stunning. This lightweight unit has a BuzzTV logo in the front that lights up when it's plugged on. In this BuzzTV IPTV box, you'll get an AV port, HDMI port, Ethernet port. On the other side of the box, you have support for your Micro SD card, 1 USB 3.0, and 1 USB 2.0. In the bottom, the box has four little honeycomb-shaped supports so it can stand up for proper ventilation. Even though it comes in a plastic body, the design is good enough to catch your attention.
With an impressive IPTV box, you will get a very capable remote control. The remote has an intuitive design and is very easy to use as it gives you a lot of quick shortcuts. The backlight feature and the shortcut buttons give you an awesome experience. With this remote control, you can have quick access to your favorite channels, search anything right away, mute the volume, fast forward, play, pause, record, and rewind are just one click away. You have a mouse feature as well, so if you need a mouse input you can do it with this remote control. The remote keys give you quick access to your servers, video on demand (VOD), all of your TV series, and recordings with PVR. There are so many useful buttons to give you a flawless experience when you're watching TV.
Features
BuzzTV has done great modifications in this latest XRS4500 MAX to give you the best IPTV box experience. It is easy to use as a live TV box where you get easy access to a wide range of features which makes it the best IPTV box in the market.
BuzzTV XRS4500 Max comes with a 128GB internal memory, the maximum available internal memory size, that allows you to download all of your favorite apps, games, and PVR. This internal storage gives you enough space to record at least 100 hours in 1080p quality. To give you a better experience while playing games, streaming, or downloading anything, 4GB DDR4 is installed in XRS4500 which enables your device to work faster.
The operating system that you'll have in this IPTV box is powered by Android 9. The operating system of this unit is optimized for better performance and enables you to have a full system backup and restore. It comes with a quad-core CPU with enhanced processor performance, so you can use it without any hiccups. The Penta-core GPU allows you to access more complex content.
Another amazing spec is the Dual Wi-Fi feature. It allows you to connect to two Wi-Fi networks at a time that means you will get a much faster internet connection than a single-band Wi-Fi. You can connect your device to a 2.4 GHz and 5GHz network simultaneously. Moreover, you get multiple ports for connecting to different devices. It includes 2 USB slots (USB 3.0 and USB 2.0), a micro SD card port, an AV port, 1Gbit Lan Ethernet (for faster data transfer), and an HDMI port.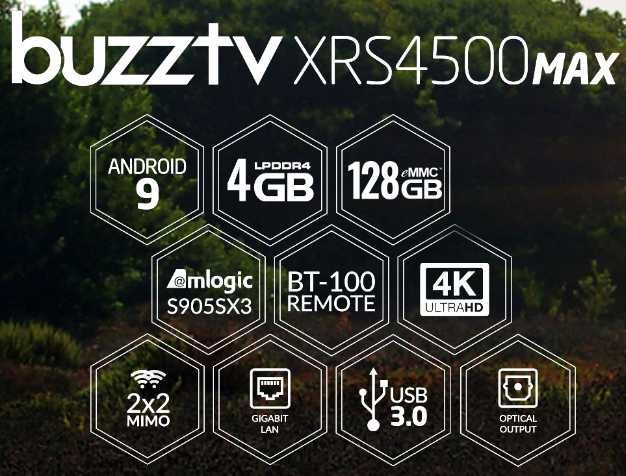 When it comes to screen resolution, you'll have a high-quality 4K HD resolution that allows you to stream clear and sharp images on the screen. You can adjust the screen resolution and screen position by going to settings.
You can set up your server by using your server ID. Another thing that you can do is you can add your m3u list by adding your URL. To get the EPG, your server should have to provide you with an EGP. BuzzTV doesn't provide any kind of EPG but it will support it if you get one from your provider.
The launcher is cleanly designed with easy-to-access options. When you set up XRS4500 MAX, on the main screen you'll get options like live TV, VOD, PVR, and EPG. You can have easy access to all of your downloaded apps. You can add or remove an app from the main screen quite easily. You will have a list of your Top 10 channels and you can adjust them by making your priority sequence of your favorite channels.
By going to the Live TV option, you'll have your channel list. You can block any channel that you don't to see on your Live TV. So, you don't have to ask your provider to help you out in blocking certain channels. Similarly, you can adjust VOD, PVR, and EPG as per your choice. Thus, you can easily customize the homepage launder as you want.
The remote control of XRS4500 MAX is also nicely built. You have a lot of keys that function pretty well to ease your experience. With the Dual IR and the Bluetooth connectivity feature, you have a perfect wireless Backlit supported (makes it easier for you to use it in low light) remote.
Another reason that makes XRS4500 Max the best IPTV box is it can support multiple audio and video formats. Whether you have audio in MP3, ACC, WMA, RM, or FLAC format you can access it with this device. You don't have to compromise on video quality as well while playing different formats on screen.
The OSD (On Screen Display) operates in different languages. You can change it to your own desired language. One of the features that most people want in a device is subtitles. With XRS4500 MAX, you can get access to various subtitle formats.
An amazing aspect is universal, or you can call it a global, power adapter that has different types of heads. It is specially designed to ease you to use the same piece for connecting to a power supply when you travel around the world. You just have to change the header part.
The best feature that you'll get in this modified version of the buzzTV IPTV box that wasn't available on XR and XRS 4500. The Bluetooth option allows you to add your remote and other accessories such as headphones, speakers, etc. You can do this by simply going Bluetooth and accessories option or you can turn off your Bluetooth.
Why it is the best IPTV box?
With maximum internal storage of 128 GB and 4GB RAM, it is a reliable and speedy IPTV Box. The dual-band Wi-Fi provides consistent internet connectivity while streaming. It provides a clear and shaper 4K Ultra HD quality content with any blur effect on the screen. On top of all, it enables you to watch Live TV, VOD, TV series, EPG all on one screen, and switching between different menus and settings are easy and fast. It comes with an attractive launcher that provides a great user interface. The Backlit Remote control with impressive shortcut buttons is perfect for use in low light and the keys are soft. The most amazing aspect of this one of the best IPTV boxes is that it is quite affordable for all the amazing specifications you get in it.
The world of IPTV set-top boxes is filled with a variety of products and models which force you to compromise between picture quality, reliability, stability, and of course, number features. But, the IPTV set-up boxes giant "Formuler" released, the successor of one of their most widely acclaimed models "Formuler Z7", the Formuler Z8 is proven to be one of the best in the business.
The Formuler Z8 was much awaited, and rightly so. A powerful quad-core processor packed with 2GB of DDR4 ram will help you effortlessly and smoothly stream your favorite content in 4K! and that's not all, as compared to its predecessor, the Z8 supports a whopping 16GB of storage and a super-fast 2.4G / 5.0G Dual-band – Dual Antenna and a convenient Gigabit Ethernet 10/100/1000M port. More than enough reason for an upgrade. To top it off the Formuler Z8 has the Air Sync Remote Z which will conveniently turn your Android phone into an intuitive remote.
Read on further to know in detail about the amazing specifications of Formuler Z8 and why this IPTV set-up box is one of the best IPTV set-up boxes out there.
What's inside the Box?
In the box, you will get the following things:
FORMULER Z8 IPTV Box
Premium Remote Control
Two AAA batteries (for the remote)
Power adapter
TV-Cable
Antenna
Remote control extender
Quick Setup Guide
Design
As mentioned before, the Formuler Z8 being the updated version of Z7, didn't hold back on the design aspect as well. It ditched its formal design and gave itself a complete makeover with its new sleek, modern, futuristic appeal. This set-up box can be easily distinguished between its predecessor and, other IPTV set-up boxes with its eye-catching aesthetic which is sure to grab attention wherever it's placed.
The remote is no less impressive, with its soft but durable buttons, that glow in the dark for your late-night movie convenience. The hotkeys are easily reprogrammable to your liking as well. The Formuler Z8 is a small and sleek set-up box with dimensions of 105mm x 105mm x 22mm (Length x Width x Thickness), excluding the antenna, which offers portability to go along with its top-quality build.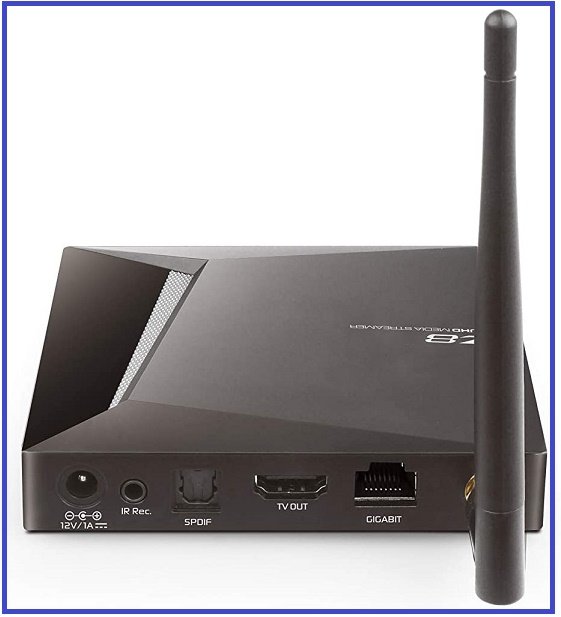 Features
Now for the main part, why this set-top box is a class apart from others. The Formuler Z8 is one of the most high-end set-top boxes with its out-of-the-park specifications that are worth every buck. From hardware to software this product offers nothing but impressiveness.
The Sicilian quadcore CPU offers the same impressive speed and power as its predecessor if not more. The navigation speed of the Z8 is staggering, as browsing through menus and channels hasn't been easier. You could load up to 4K videos and won't experience any noticeable buffering. The smooth browsing and navigation between content and apps could surpass even the best of Android smartphones. With a press of a button, you can start the DVR function and record it to store it on your USB external device.
When it comes to the software, the Formuler Z8 is preferably the greatest among the models of its generation. This IPTV-Box uses the latest stable version of the Android Operating System: 7. The good thing about this specific version is that It makes navigation very fluid and easy. Especially if you already have a good connection speed, it's even better.
The principle interface is anything but difficult to peruse. It truly has the most complete UI and the best client experience. The picture is of superior quality and permits playback in 4K HDR 10 at 60 fps.
The quality of the sound is just as good as the image. With an IPTV application, all the software and hardware functions of the Formuler Z8 give you a satisfactory time of use. Even when you're watching a live video at 4K resolution, this model will transmit it without any bugs and errors. No problems, no slowdown at the level of the image or sound.
By a wide margin, the best equipment option as I would see it that Formuler added to the Z8 is the outer antenna wire. Formuler IPTV boxes already totally used internal wires. They were as yet ready to achieve solid associations, however, external antennas are certainly the best approach. They are more averse to drop signals and have longer reach.
One of the astonishing aspects is that the Formuler Z8 is equipped for up to 1000Mbps download speed, while the costliest model of the Z7+ could go up to 1200Mbps. It's a minor minimization, yet it merits referencing. Possibly Formuler will in the long run discharge a Z8+ to compensate for this.

The set-up process of this IPTV box to enjoy your favorite content is quite simple. You can easily find the installation guide in the user manual delivered with the package. Simply follow the instructions to put your IPTV-Box Formuler Z8 into operation.
Some steps require just a bit of concentration in the installation of the application and the management of the files. If you follow all the instructions, you will correctly have no problem making the correct installation. When it comes to its functionality, this IPTV-Box offers you the classics and novelties.
Especially the remote control, one can easily navigate through the main interface and the different applications. The Z8 is under Android 7, which is a fast version of the operating system.
With this device, you can see images, watch long videos on a hard drive, for example, and you can also stream videos. It allows other things access to IPTV, which is attainable through television via the Internet. You can also easily play video games with this IPTV-Box, even though it is a bit limited in that sense.
Some other features of Formuler Z8 IPTV-Box are below:
Video decoder: 4K@60fps, VP9, H.265(HEVC), AVS, H.264(AVC, MVC), Real, MPEG1/2/4, VC-1
Advance USB PVR
Video format: TS, MKV, FLV, MOV, AVI, RM, MP4
Audio format: MPEG-1 Layer 1,2, AAC-LC, HE-AAC V1 / V2
Image decoder: JPG, BMP, GIF, PNG
Multilanguage
Web Navigator
Youtube
Teletext
Timeshift
IPTV / OTT decoder
Why it is the Best IPTV box?
To sum it up, the Formuler Z8 Android IPTV is a bang for the buck. The robust features, impressive performance, the brilliant design is more than worth it in this price range. For a stress-free streaming experience, the Z8 goes to its fullest and then some to provide a satisfactory viewing.
The super-smooth and responsive navigation add wonders to the user experience, it also complements the flexibility of the user interface.
The MyTV Online 2 IPTV App is probably the best-known proprietary application of Formuler and its convenient glow-in-the-dark remote control sets the Z8 apart from the others.
The 16GB HDD also makes it super-efficient and convenient to download all your favorite streaming applications.
So, If you are an IPTV user, or have used different IPTVs then you need to look into this upgrade, and you will understand why the Z8 is far superior to the other IPTV set-top boxes.
Infomir has recently launched MAG424/W3 IPTV box that has everything that you should look for in the best IPTV set-top box.
If you are not searching for IPTV set-top boxes for the first time, then you have probably heard about Infomir IPTV units. Infomir MAG boxes are a well-known name among users when it comes to streaming owing to the performance and efficiency this brand has ensured in each update.
MAG424/W3 is an improved version of the previous model MAG424. It comes with a built-in Dual-band Wi-Fi, a really good update that was not present in the base model MAG424. You can stream your favorite content at a 4K UHD resolution. In addition to this, the fast processor enables you to stream anything without any trouble. This amazing launch is full of features and specifications that you can avail of at an affordable price. Let's get into the detailed review of MAG424/W3 to make everything clear.
What you will get inside the Box?
In this IPTV box, you will get the following items:
MAG 424W3 Set-Top Box
User Manual
HDMI Cable
A 12V Power Adaptor
2AAA Batteries
Remote Control
Design
MAG 424W3 design has a striking resemblance to Infomir's previous models. Most of the Infomir IPTV set-top boxes have this visual style, so anyone familiar with the best IPTV boxes providers can identify them quickly. Although not many modifications are done in the design it looks really impressive in any interior. The box has a turn-on and turns off switch on one side, a USB 2.0 and USB 3.0 ports, a microSD slot, an HDMI port, and a 12V power input port.
The remote control comes with the same red ring that is present on the top of the MAG424 IPTV box so that both complement each other well. They have made the remote buttons softer and easier to use. The shortcut keys are really helpful to give you a wonderful experience. MAG424/W3 is quite lightweight with a high-quality design and provides spectacular features that are surely worth the price you pay for it.
Features
As aforementioned, it is a modified version of the base model. But the new modified features that Infomir has introduced in MAG424W3 place it among one of the best IPTV boxes available at present. The built-in Wi-Fi addition is a huge plus point as this feature wasn't present in the base model. The Wi-Fi is dual-band makes allows you to stream your favorite TV channels at 2.4GHz and 5GHz frequency.
Moreover, as per Infomir's tradition, this MAG box comes with easy-to-operate menus and settings. You can easily connect it to the internet and find the channels of your interest.
After being satisfied with the design, the high-level technical specifications that you will get in this best IPTV box will not disappoint you. The impressive specifications that you will get in MAG424W3 include well-functioning hardware, software, and high-quality video and audio formats.
The chipset that you will have in this modified version is powerful enough to handle all of your complex tasks. The Quad-Core Arm processor that works at a speed of 1200 MHz gives a high performance making the overall streaming of content delightful. The processor operates at 15000 DMIPS which provides you the speed and power that you look for while choosing the best IPTV box. So, you will have a smooth user experience with the performance efficiency of MAG424/W3.
It comes with 1GB RAM, which definitely will not be sufficient for everyone but still for most people it is enough to fulfill their requirements. Moreover, they have added 8GB of EMMC flash memory that is enough for most of the IPTV users out there.
The operating system that you will get in MAG424/W3 is Linux. So, if you are a Windows user you will have to be patient in operating it for the first time. But as it is free and quite easy to install and understand, you won't face a tough time. On top of that, you can easily customize it as per your requirements and it ensures security and stability.
One of the top features that most people look at while choosing the best IPTV box is the audio and video quality. In this case, you won't be disappointed by MAG424/W3. It provides a 4K UHD (Ultra-HD) video quality that provides high quality and much clearer images on the screen. This means you will have a number of pixels that are four times on a 1080p display and give a resolution that is 23 times better than a standard television display.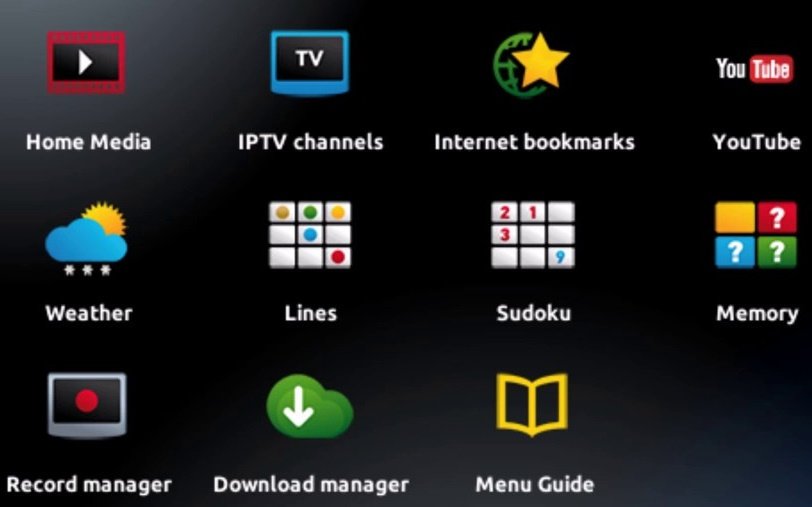 It provides HEPC (High-efficiency video coding) support and plays HEPC-compressed files. It means you will have a better 4K content streaming process due to less network load. This powerful device allows you to access a variety of audio formats. You will have a variety of subtitles formats as well.
You will have a user-friendly interface in MAG424/W3 as it has all the aspects that you need for connectivity. You will have Micro SD support, 2 USB supports (USB 2 and USB 3), Ethernet as well as HDMI 2 support. Also, these aspects are really easy to connect.
Why MAG424/W3 is the best IPTV box?
In addition to the above-mentioned specifications, you will enjoy a lot of amazing aspects in the MAG424/W3 set-top box that you can count on while choosing the best IPTV box. And these aspects include:
High-performance
The high-performing processor with 1GB RAM makes it a speedy device for handling all of your complex tasks. So, this best IPTV box will save your time that will be consumed in loading and buffering in other less efficient devices.
Easy to connect
You can easily connect any device MAG424W3 IPTV box. Whether you want to enhance the storage or connect a mouse you can easily do this as you will get multiple connecting ports. You will have a built-in Wi-Fi module, USB slots, and Bluetooth 4.1 for connecting easily.
Catchy Design
The design of MAG424/W3 is worth your attention. It has followed Infomir's traditional design that looks great in any interior due to its impressive finish.
High-Quality video resolution
MAG424/W3 provides very high-quality content on screen. With HEPC the 4K video is sharp and clear enough than any 1080p screen resolution quality.
Speed
While you are scrolling through different menus you don't have to face lagging in pressing a button and getting a response on the screen. The speed that Infomir MAG424W3 provides will be enough to resolve this issue. It is frustrating for everyone if they have to wait to load menus. This is a really good update in this version as you will not have to wait while scrolling through icons and loading menus.
Internet and Streaming Capabilities
It is a common perception among most people that IPTV boxes with antennas provide a better connection. No doubt, they do. But MAG 424W3 is a device that works well even without an antenna. The built-in Wi-Fi will provide a strong connection without any drop-in signals. Maybe it will not be as good as most IPTV boxes with an antenna, but it definitely won't disappoint you while streaming your favorite shows which makes it one of the best IPTV boxes in the market.
Buyer's Guide for choosing the best IPTV box
When you have a lot of options in front of you, then making the right choice can be tough. Here is a buyer's guide to help you choose the best IPTV box for better streaming and content on screen:
Type of IPTV box
The first thing that you'll have to do is to decide the type of IPTV box you want to buy. There are three types that you can choose from:
Video On Demand
It allows you to watch your favorite program when you want. You will be charged a fee for it.
Time-Shifted IPTV
With this, you can watch the TV shows that have been aired but you missed them and would like to see them now.
IP Simulcasting
It provides the live streaming of content.
Read Reviews
You can read reviews of the IPTV box that you plan to buy. It will help you to make the right choice.
Look for major aspects
Before buying an IPTV box, make sure that it has all the major aspects as per your requirements. You should check the memory, operating system, screen resolution, audio and video formats, video quality, etc.
Buy from top-rated brands
If you buy from a well-known brand, then you will get the best IPTV box you desire. The chances are more that you will a get malfunctioned device if the manufacturer is not very reputable and worthy in the market.