Kemo IPTV, an IPTV provider that offers international channels, is a great choice. You can access thousands of TV channels in different languages and countries. This article will provide information about Kemo TV, its pricing, and how to install it on different devices.
You may also like: 15+ Best IPTV Service Providers
Official website: kemoiptv.online
What is Kemo IPTV?
Kemo IPTV is a TV Content Streaming App. Kemo IPTV allows you to watch over 16,000 TV channels. This service is also available on many streaming platforms. The Kemo IPTV service is paid for.
Key Features
More than 16,000 channels, many in HD quality
24-hour trial for free
40000+ VODs (movies + shows)
You can have more than one connection to the standard plan.
Cover me VPN is great for VPN use.
Not IP location locked
Electronic Program Guide (EPG).
URL M3U
Catch up
Access to major sports packages, PPV, and other entertainment
International channels
Adult Channels
File linked store
Support for external players
Favorites manager
Compatible with most popular IPTV Players
Accepts Bitcoin and Credit/Debit
Kemo IPTV Channels
Kemo IPTV offers over 16,000 channels, starting at less than $9/month for their standard plan. You can choose from various channels, including local, international, entertainment, and news.

The IPTV service offers PPV, major sports channels, and adult options. Each subscription includes over 16,000 channels and VOD options. There is an electronic program guide (EPG) for those who prefer this layout.
Payment & Pricing Gateways
Kemo IPTV offers several different subscription plans. You can also get a free 24-hour trial. On your streaming device, you can download the Kemo IPTV subscription package. Depending on the package you choose, you can receive various alerts. The price of these plans varies depending on how long the subscription is and how many connections you have.
See also: 10+ Best USA IPTV Service Providers
Their most popular subscription plans, as of writing, include the following: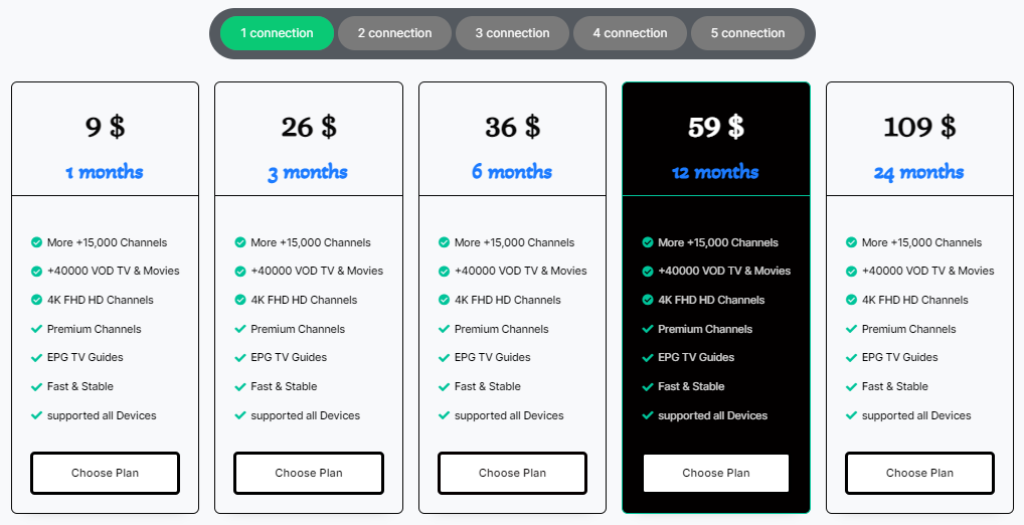 How to Signup for Kemo IPTV?
You can sign up for the IPTV using the steps below.
First, use your smartphone to visit the Kemo IPTV site.
Click the Subscribe Now button. Click the Get Free Trial button to get a trial.
Now please click the Order Now button to select your subscription.
The Configure screen will be displayed on the next screen. Click the Continue button to continue.
Next, please enter your details and scroll down.
Please choose the payment option you prefer and then click the Continue button.
Once payment has been made, you will be emailed the IPTV credentials.
How to get Kemo IPTV for Android?
The Kemo IPTV was now available for use on your smartphone. These are the steps we will use:
Turn on your Android phone and turn on your mobile data. Now, fix your phone in the best network area.
Click the search icon and move to the Google Play Store built on your Android phone.
Use the search bar to search for Kemo IPTV. Click on the search symbol after that to launch the IPTV App.
To view the Kemo IPTV App on Android, download and install it.
Sign up with Kemo IPTV to obtain the credential for your required service and stream the videos.
We now have the Kemo IPTV Service on your Android Device
How to stream Kemo IPTV TV to Firestick?
You can stream IPTV via your Firestick device. To launch the IPTV on Firestick, you can use the Downloader app's third-party application.
This article will show you how to download the Firestick Downloader app. Follow these steps after downloading the app.
First, open the downloaded app.
Second, paste the IPTV Download Link URL in the box provided.
Please click the GO button.
Once the app is downloaded, click on the button to install it.
Open the app, sign in with your IPTV credentials, and you can enjoy the shows on the big screen.
Pros & Cons
Pros
Support includes adult content
There are many options for making a payment
There are many options. Customers can make multiple connections simultaneously.
Although not every channel is available, it works well and has very little lag. VODs and movies are available in the Movie section. All of them are in English. Subtitles can be added if desired.
The VOD section loads instantly.
Cons
Although customer service is not always available, they will get back to you promptly.
Additional Features of Kemo IPTV
All of your favorite TV channels are available in one location. You need to relax, unwind, and enjoy all your favorite TV shows, live and on-demand, including breaking news, sports, PPV, and series. There are more than 16,000 channels worldwide.
See also: 5 Best IPTV Providers in the UK
You can also watch all the channels from every country and each category. Kemo also allows you to stream live sports games, including NCAA, NHL, NFL, and UCF. You and your family will have unforgettable memories with thousands of movies in English and French, EXYU, German, Spanish, Polish, and many other genres.
Customer Support
It is possible to contact Kemo Satellite TV via live chat or email through two different customer support methods. There is no guarantee that the live chat will always be available. It would be advisable for you to contact the support team via email for all your queries. A reply mail will be sent to you within two days from the customer executives as soon as they receive your inquiry. As a result of their experience, the executives can provide simple and easy-to-follow solutions.
Frequently Asked Questions
How does Kemo IPTV work?
KEMO provides subscribers with live channels at an affordable price through its IPTV service.
Is Kemo IPTV legal?
Yes. Yes. Kemo TV IPTV can be used if you get content from a legal service provider.
Which Devices can Kemo be Installed on?
This IPTV service can be installed on any Android device. This includes Fire TV, Amazon Firestick, and all Android devices.
Conclusion
Kemo IPTV has a wide range of video content for a very affordable price. You can get a free trial for 48 hours to see how it performs and then sign up for a subscription. Many IPTV services are illegal, and you can stream copyrighted content. We are unable to verify whether the IPTV service is legal. VPNs are a great way to protect your data and avoid legal problems. A VPN can also be used to deblock content that is restricted in your area.