Ice Flash IPTV is one of the largest IPTV service providers that offer broadcasting channels that live in SD and Full HD resolution. The main channels that are featured originate from the USA as well as the UK. Alongside Live TV channels, you can watch movies and shows with the IPTV service. The contents of the IPTV service are classified according to their nature.

You may also like: 15+ Best IPTV Service Providers
There are also a lot of broadcast stations. You will require the IPTV player to play the content from the IPTV provider. It is compatible with any Android-powered device, including Fire TV, the Amazon Firestick, Fire TV, Fire TV Cube, NVIDIA Shield, and more.
Official website: iceflashott.com
Key Features
More than 15,000 live channels
Plans start at under $12.00/month
Thousands of VODs
Free trial for 24 hours
VPN compatible, great with IPVanish VPN
Not IP location locked
Major sports channels
Popular news channels
Catch-up
Support for external players
International channels
Support for customers via their online contact form as well as email
Electronic Programming Guide (EPG)
It is compatible with Firestick/FireTV and Android devices.
Compatible with the most popular IPTV Players
24/7 customer support
Channels
As previously mentioned, Ice Flash OTT provides more than 15,000 live channels, starting with a standard plan of just $12.00/month. However, their premium plan offers more than 20,000 live TV channels and 10,000 series. These channels are offered in various categories, including entertainment for children, international sports, music, and more. The IPTV service also has choices for PPV, major sports channels, and additional services unavailable in other services. It also has a basic digital program guide (EPG) for those who prefer this format.
Payment Gateways & Pricing
Ice Flash OTT offers several different subscription plans available to new users. Prices vary depending on the subscription's length and how many connections. The most popular subscription plans they offer include the following.
See also: 10+ Best USA IPTV Service Providers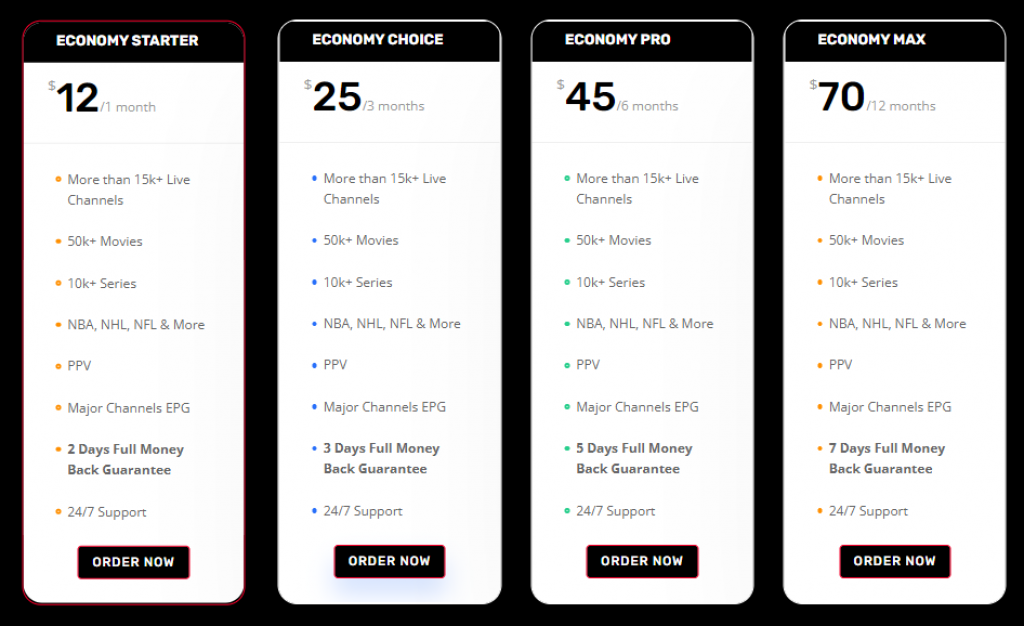 Economy Class
$12.00/month for more than 15,000 TV channels, including VOD and one connection
$25.00 per month for three months, more than 15,000 channels on VOD, and one connection
$45.00 per month for six months, and more than 15,000 channels on VOD and one connection
$70.00 per month for twelve months, more than 15,000 TV channels and VOD, and one connection
Premium Class
$15.00/month for more than 20000 channels, VOD, and one connection
$30.00/month for more than 20000 channels, VOD, and one connection
$55.00/month for more than 20.000 channels, VOD, and one connection
$90.00/month for more than 20.000 channels, VOD, and one connection
Sign up for Ice Flash OTT
1. Go to Ice Flash OTT's website and select the language you prefer English.
2. Select the payment method.
3. Select your subscription plan, then click the Order Now button.
4. Click the Continue button within the check-out section.
5. Enter the required information and then click Continue shopping.
6. Choose the payment method you prefer and then complete the payment.
7. Look for the Ice Flash IPTV username and password in your mailbox.
Ice Flash OTT on Android and iOS
1. Start the Google Play Store app on your Android device and look up Ice Flash IPTV.
2. Choose the IPTV application and press the install button.
3. Launch the IPTV application and sign in with your IPTV account.
4. After you have successfully logged in after logging in successfully, choose the category you would like to stream.
5. Begin streaming your most loved live TV channels in the category.
See also: 5 Best IPTV Providers in the UK
Find Ice Flash IPTV on Firestick
Switch on your Firestick-connected TV and then navigate to the Find tab.
Click on the Search tile, and then look for the Downloader app.
Search for and then tap the Downloader application from your search results.
Hit the Download button and download the app onto your TV with a Firestick connection.
After that, you can click on the Settings symbol on your Firestick homepage screen.
Find your option My Fire TV and click it.
Choose Developer Options, and then the option Install Unknown Apps.
Scroll down and tap the toggle switch close to the Downloader application to activate it.
Start the Downloader app, and then navigate into the tab Home.
Select the URL box and then enter the APK URL for this GSE Smart IPTV player.
Click Go and choose Install on the page for installation.
After installing the app, open it up and select Remote Playlists from the menu bar to the side.
Click the + icon, then select the option Add M3U URL.
Click on the M3U link from Flash IPTV and click Add.
The content will be loaded on your GSE Smart IPTV player.
Now, you can play your favorite film and then watch it on a large screen.
Watch Ice Flash on IPTV on a PC
Download VLC Media Player from its official website on your computer.
Go towards Menu bar > Media > Open Network stream, then NetworkCopy the M3U URL of Flash IPTV.
Then wait for the content to load.
To change channels, Click Menu >> View >> Playlist
Ice Flash IPTV on Samsung LG Smart TV
Install the IPTV application from the app store onto the Smart TV.
Launch the app and select the Settings icon.
Now, click on Get Code and go to http://ss-iptv.com/en/users/playlist from any web browser.
Enter the code, then click Add Device.
Input the M3U link for Flash IPTV to the box to the left of the option for EXTERNAL PLAYLIST and Click on Add ITEM.
When you enter your name, enter the name as Flash TV.
Click save now.
Now, click Ice Flash IPTV to stream the content to your Samsung or LG Smart TV.
What is the reason IPTV requires VPN?
VPN is required to stream IPTV videos. IPTV providers such as the Flash IPTV monitor user information in a way. This means that your security could be compromised. However, by using a VPN, it is possible to hide your data with ease. Sign up with any top VPN, such as NordVPN or CyberGhost VPN.
FAQ
What exactly is Ice Flash OTT?
Ice Flash OTT can be described as one of the IPTV services that offer live channels at a low cost.
What channels does Ice Flash OTT IPTV Have?
This IPTV service includes more than 15,000 channels across various categories, including entertainment, international news, sports, and many more.
How Much Does Ice Flash OTT Cost?
The IPTV service is priced under $12.00/month per month for the basic package with only one connected. There are other plans to choose from.
What devices can this IPTV Service be installed on?
This IPTV service is available to install on any device running on the Android operating system. That includes Amazon Firestick, Fire TV, and any Android device.
Conclusion
Ice Flash OTT is reliable and among the top IPTV services that offer live channels and TV shows, films, and other services, along with much other content on demand with high quality. The service works with many devices. Be sure to connect with a VPN to access the service from anywhere globally. VPN also conceals your IP address and shields your information from trackers and hackers.